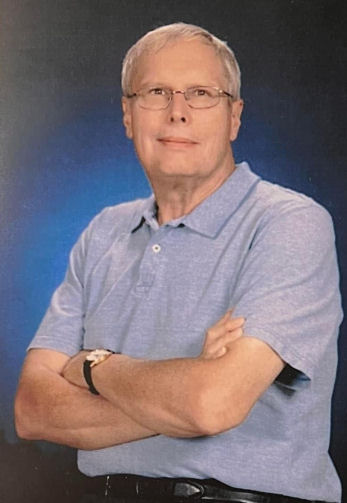 Last week the former 1522 crew had the sad occasion of saying a final goodbye to a man who was the heart of the St. Louis Steam Train Association. Jeff Schmid recently lost his battle with cancer and was laid to rest here in St. Louis. While others led the restoration of the 1522, oversaw the administrative aspects of the organization or kept on top of the locomotive's maintenance, Jeff was the one who did the most to establish us as a well-trained railroad crew. The story of the 1522 might have ended up being that of a restored locomotive that just steamed back and forth on a short museum track. Jeff got us out on the road!
Jeff was one of the leaders in our work sessions. Don Wirth oversaw the maintenance of the 1522 itself so Jeff took charge of the SLSTA rolling stock. He led the rebuilding of the former Milwaukee Road bag dorm into our crew car Firefly. That effort involved reconstructing one whole end of the car from scratch and disassembling and safely reworking a set of trucks that were never really intended to come back apart. There wasn't as much to do on the former Northern Pacific baggage car, which became our souvenir/storage car Black Gold, but we still had to strip and paint it plus figure out some repairs. We also worked on the business car which became the Bluebonnet. At the time, I thought Jeff just had a good knowledge of car maintenance and repair. However, a couple months ago, he and wife Judy drove to St. Louis and, while here, Jeff gave me several boxes of his old files for preservation. Just a quick look through them shows that he was doing a LOT more than we realized behind the scenes. There are letters to various parties asking clarification on car rebuilds, operations and more. I look forward to digging into these files and some of that may end up on this site as well.
In addition to preparing the equipment, Jeff also trained the SLSTA crew. Only a couple members of the crew had railroad backgrounds so we needed training on proper conduct and safety in a railroad environment. Somehow, Jeff was able to get the SLSTA recognized by the FRA as a railroad. This status enabled Jeff to train and qualify 1522 engineers and issue the requisite 3 year certificates. As with the engineers, Jeff also insured that the 1522 firemen were familiar with the General Code of Operating Rules (GCOR).
The training paid off well – we knew we were under the microscope and as a crew we worked safely and competently. That greatly helped us in receiving additional opportunities to take 1522 on the road.
Not only was Jeff working with the SLSTA, he was also a member of the St. Louis Chapter NRHS and quite active in running excursions, either as a liaison with the SLSTA or acting as trip director for trips not using our engine. He served as a mentor to others who took up that job on future trips and was a key factor for the Chapter developing a reputation as an outfit that could run a good excursion. All of this he did graciously and with a good humor. You never knew when he would throw a zinger into a conversation! When he overheard me talking about my wrist possibly getting carpal tunnel from all the typing I did at work, he remarked, "Carpal Tunnel? Isn't that at the top of Steven's Pass?"
Lest you think it was just our crew that thought so highly of Jeff, we weren't the only ones. He was the subject of a Trains magazine Railroad People profile in the July, 1995, issue (page 58). He also was prominently featured in Trains magazine article about our comeback from mechanical issues in the October, 2001 issue (page 32). After his retirement from the BNSF, he was brought back as a part-time contractor to operate the company's Employee Appreciation Special trains as well as other business car trips.
Perhaps the best tribute that Jeff could have received was the two rooms at the funeral home yesterday packed with former SLSTA crew, St. Louis Chapter NRHS members, family and friends. There was a lot of excursion operating experience in that room! Knowing I would be writing this article, I was looking through the photos of Jeff and the items on display for inspiration. A printed email from Wellie Lazier, former Executive Vice-President of the SLSTA, to Jeff's wife Judy was among the items. Reading through it, I realized that his words were exactly what needed to be said about Jeff. Wellie was kind enough to allow me to reprint it here.
-------
Dear Judy,
It is with deep sadness that I type this. I just read the email reporting that yesterday Jeff "ran his last train up to the Great Roundhouse in the Sky."
In one of my last email exchanges with Jeff last November, I related the following, "This is an appropriate time to thank you for all that you did for the 1522 experience. I sense that few folks realize what an integral, important role you played in developing our relationship with the BN (and maintaining it with the BNSF), forging a beneficial relationship with the FRA, ensuring our equipment met railroad and FRA standards, and providing the necessary training and oversight which enabled the engine crew to function professionally, especially me. I offer you a profound and sincere thank you."
Just yesterday I was thinking I should have added a bit more to that, and wondered if maybe I should send one more email. I didn't realize that it was already too late. What I would have added was another thanks for taking a chance on us. Jeff had a good job and reputation with the railroad, and he put that on the line in support of the restoration and operation of the 1522. He was the only one among us with operating experience, and he went about the business of enabling us to become proficient in the railroad environment. I'm just so thankful he was there, and was willing to take a chance. There were a number of us whose absence wouldn't have made a big difference. Jeff wasn't one of those. If he hadn't been involved, the BN/BNSF wouldn't have been a part of the story, and hence there wouldn't have been much of a story at all. Again, thanks to Jeff for taking a chance on us, and me in particular. He gave me the knowledge, training and experience that enabled me to operate a steam-powered passenger train on a class 1 railroad.
I miss Jeff and will cherish the memories until it's my turn to take that last train to the sky..........
Wellie
-------
Jeff's Obituary
Jeffrey Schmid, 74, husband of Judy Koepke, died February 8, 2023 at Monarch Hospice House in Lincoln of pancreatic cancer.
Jeff worked 53 years as a professional railroader, but his greatest fulfillment was his sideline work of helping rebuild the Frisco 1522 steam locomotive and then serving as one of its engineers as the 1522 pulled hundreds of excursion passengers hundreds of miles over mainline railroad tracks during the 15 years permitted by the Federal Railroad Administration.
Jeff started on the Frisco Railroad track gang in 1969, did his Uncle Sam time in the railroad reserves, went into engine service in 1973 and ran trains as locomotive engineer for 15 years between Saint Louis and Springfield, Missouri. Then he was recruited into railroad management.
Jeff worked passionately in railroad safety education. He was part of a team that wrote instruction education for police for investigating railroad crossing accidents. He was part of another team that negotiated with landowners to close down 5,000 hazardous railroad crossings. After retiring to Nebraska, Jeff worked with Nebraska Operation Lifesaver railroad safety education organization.
One of Jeff's favorite many part-time work assignments was as Operations Manager for the BNSF Railway's annual Employee Appreciation Special train that went around to the railroad's terminals giving free thank-you rides to employees and their families.
-----
We will miss Jeff a lot.