San Antonio 2002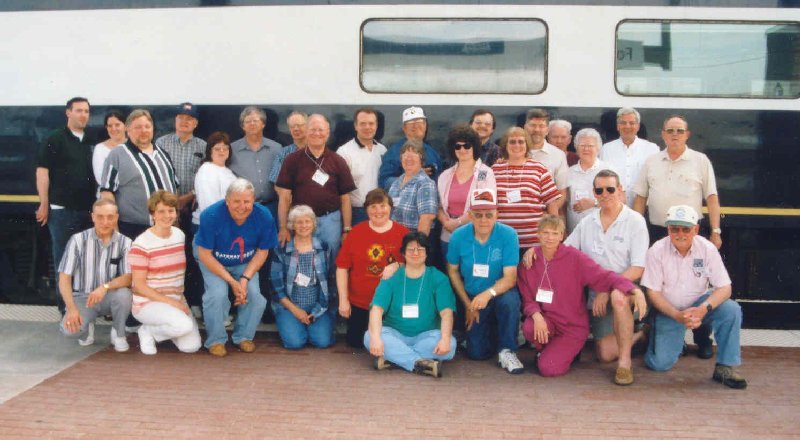 The tour group photo at Fort Worth
Photo by Rick Sprung, Joyce Wahlman Collection
In May of 2002, the St. Louis Chapter of the NRHS sponsored a private car excursion from St. Louis to San Antonio riding behind Amtrak's Texas Eagle. 31 passengers enjoyed the diner-lounge Chouteau Club during the day and pleasant dreams on the sleepers Cimarron River and Silver Quail at night. Enroute, Trip Director Rick Sprung ensured plenty of historical information was available on the route of our trip with posted mileage charts, radio frequencies, historical fact sheets and even a GPS navigation system showing the train's location at all times. Once in San Antonio, our private cars were connected to ground power at the Amtrak station and we were just a short walk from downtown San Antonio, the Riverwalk and Alamo. The local tourist trolley stopped at our station as well and carried us all around town. It was a neat trip with rain in Arkansas giving way to excellent weather our entire time in Texas. Best of all, our visited coincided with the local celebration of Cinco de Mayo.
Click to enlarge the photos below from our trip.
All photos by George Rees unless noted. Photos copyright of their photographers - all rights reserved.
---
Return to St. Louis NRHS Past Event Page